Chinese consumers' search behaviour has changed. Gone are the days when Baidu was the one-stop-shop for search. Now, 70% of Chinese netizens use at least three platforms for search every single day.
---
It's all about "social search" and three of the biggest players are WeChat, Douyin and Little Red Book.
With the rapid pace of change, keeping up with evolving China search behaviour has never been more important. It's a sector that's redefining China digital marketing for western brands.
So, how can your Chinese marketing strategy stay ahead of the pack? We explain changing search behaviours as well as how to capitalise on social search across WeChat, Douyin and Little Red Book.
Understanding Chinese consumer search behaviour: what's changed?
Chinese social media platforms, and especially short-form video platforms, have overtaken mainstream search.
77% of users prefer content-based platforms over traditional search engines. 63% also search on different platforms depending on their purpose.
What explains this shift?
Chinese social media search results align with user expectations.
73% of users cite "strong relevance" when it comes to social search preferences. With plenty of user-generated content, results are relevant, authentic and community-driven with less hard-selling.
In this newly decentralised search environment, social media provides an entertaining, rich and layered experience. To keep up, brands are shifting investment away from traditional search advertising and moving towards in-app ads to reach social-savvy Chinese consumers.
Instead of one-way communication, effective China digital strategies focus on engaging, timely and personalised content, bringing true value to users.
Creating meaningful dialogue and understanding where each platform sits in the sales funnel is key. Consider the following sales journey:
Awareness
Interest
Evaluation
Purchase
Experience or use
Retention
Advocacy
Multi-channel social campaigns target Chinese consumers at each step of the sales funnel. For instance, WeChat is particularly useful for evaluation and purchase stages (among others). Douyin might feature at awareness, interest, advocacy and retention phases, while Little Red Book is useful for targeting consumers at pretty much every stage of the funnel!
So, what's the best way to capitalise on this potential?
Here are the social search channels overriding Baidu search…
WeChat
The WeChat ecosystem is enormous. It's a massive, multi-purpose Chinese social media platform – the biggest app in the country.
From audio books and video channels to gaming, social feeds, payment and search, pretty much anything you can think of, you can do it on WeChat.
Given the complex nature of the WeChat ecosystem, there are plenty of advertising options to match.
Three of the most useful include:
WeChat Moments ads: sitting among user-generated posts, these ads are particularly well-suited to lead-gen campaigns (i.e. collecting data on users viewing and interacting with your adverts).
WeChat Video Channels ads: one of WeChat's newest ad types, designed for brand awareness and engagement, as well as lead-gen campaigns.
WeChat Search ads: with over 800 million monthly active users, it's a great way to target large audiences, fast. Bidding is based on generic as well as brand-specific keywords.
Given 50% of WeChat users search on the platform every day, it's a massive opportunity for brands entering the China market. Search volume also grew by 54% in 2022 (compared with 2021) – a trend showing no signs of slowing.
Douyin
Douyin is the number one short video platform in China.
It boasts over 715 million monthly active users and 400 million daily search volume. Users typically have higher spending power with plenty of innovative Chinese Gen Z on the platform.
With its highly addictive short-form videos, Douyin has great "stickiness". Users spend an average of 120 minutes a day on the platform. To put this in perspective, users spend an average of 61 minutes (per day) on WeChat, 57 minutes on Little Red Book and 47 minutes on Weibo.
As well as "stickiness", Douyin also enjoys 43% ad receptivity – higher than other Chinese social media channels. There's a fair amount of ad types to choose from too, from brand takeovers to in-feed ads and search ads.
The platform offers many precise targeting options including trending topics, tags and audience segmentation as well as livestreaming preferences and advertiser behaviour.
For Douyin's search advertising, keywords trigger ads. Brands purchase keywords related to their China branding, categories and services. While search tends to be more expensive than in-feed ads, companies can direct users straight to landing pages, official websites or apps – generating brand awareness and conversions.
Douyin and WeChat case study: The University of Manchester
The University of Manchester wanted to engage Chinese academics, raising awareness of their research among international audiences and driving newsletter sign-ups.
To help, Emerging Comms developed carefully curated and highly targeted content – reaching the right audience via the right channels. Following deep audience analysis, we maximised engagement using video ads on Douyin and banner ads on WeChat. We also made the most of Douyin's niche geographic targeting and 100+ interest and behaviour labels.
The results?
The campaign achieved over 4.3 million impressions (44% over key performance indicators or KPIs) and 524 newsletter sign-ups (31% over KPIs). In addition, the campaign was ranked in the top 10% for video performance in the education sector.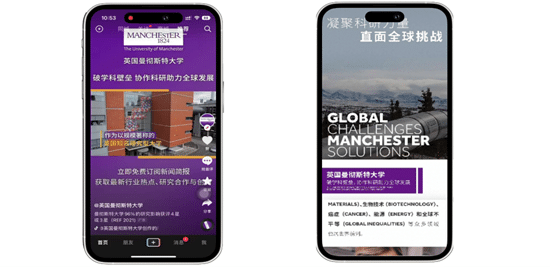 Little Red Book
If there's one social media platform for targeting Chinese Gen Z and Millennial audiences, it's Little Red Book. It has 200 million monthly active users (70% of which are female) and 300 million daily search volume.
90% of users search on Little Red Book before making purchase decisions. And what's more, 81% of users wantto buy after browsing products and services on the platform. With these impressive stats, brands can seed relevant keywords to improve visibility, reach highly targeted audiences and drive sales.
With a unique algorithm providing engaging and up-to-date content, Little Red Book fosters shorter buying and conversion journeys. Instead of the traditional journey moving from attention and interest, before search, action and sharing, Little Red Book pushes users straight from consideration to action and sharing.
So, to leverage Little Red Book in your Chinese strategy, content is king. The algorithm promotes high-quality content in an environment offering creativity and credibility. With this in mind, brands must deliver real value, offering inspiration and delight rather than "just" information.
Little Red Book case study: Ladybird, Penguin Random House
With the help of Emerging Comms, the children's publisher Ladybird moved beyond their newcomer positioning in the China market.
To drive brand preference among Chinese parents, we undertook extensive market research and created a parent-led Chinese social media campaign. We selected over 50 Chinese micro-influencers on Little Red Book to deliver bespoke and authentic content. These conversations sparked meaningful dialogue around the Ladybird brand, driving distributor sales.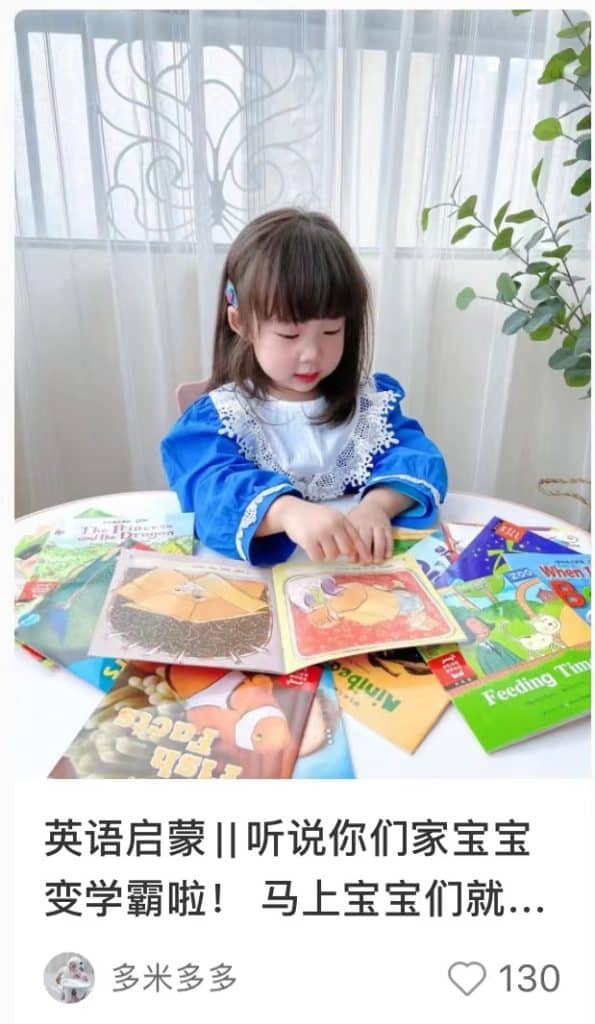 The results?
The campaign reached over 499,000 parents in just eight weeks and generated over 25,000 engagements. As a result, Ladybird outsold all other competitors on their distributor platform.
The campaign was also shortlisted for The Drum Award 2022 "Customer Insight" category and the "Best Influencer Marketing Campaign" at the Global Performance Marketing Awards.
In summary
Social media marketing has firmly taken the lead over traditional search marketing. To succeed in an ever-evolving search environment, brands must prioritise engaging in-app content. With WeChat, Douyin and Little Red Book leading the way, video and influencer marketing is especially promising.
To understand the latest Chinese social media trends and create effective social search campaigns, sign up for our webinar. With in-depth insights, we'll help you supercharge your strategy across China search and beyond.