Xiaohongshu, also known as "Little Red Book" or RED, is a popular Chinese social media platform that's gained a significant following.
---
With over 300 million users in 2021, Xiaohongshu has become the go-to platform for Chinese consumers looking for product recommendations, shopping guides, lifestyle inspo and more. It's an attractive proposition for businesses building their content marketing in China.
We take a closer look at Xiaohongshu with a step-by-step guide to make the most of the platform for your Chinese marketing campaigns.
Table of Contents
Step 1: Understanding Xiaohongshu's user base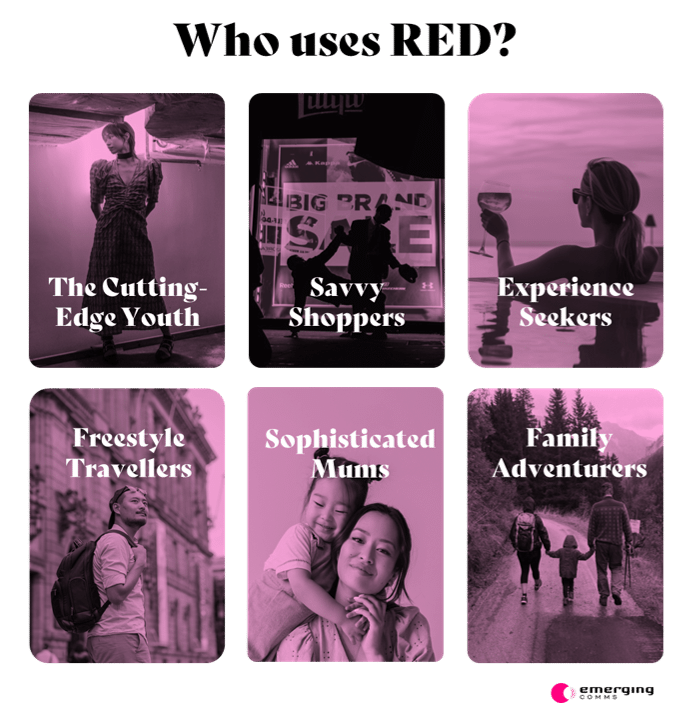 Before we dive into the details of marketing on Xiaohongshu, it's important to understand the platform's user base. As of December 2022, it boasted over 200 million monthly active users.
Xiaohongshu's users are predominantly female, over 70% are women aged between 18 and 35. And nearly 30% of these active users are under 24.
These Chinese Gen Z and Millennial users are highly engaged and often use the platform to research products before purchasing. They enjoy sharing their shopping experiences with others and make purchase decisions based on these "peer-to-peer" recommendations.
To find out more about Xiaohongshu's user base, key statistics and practical advice, download our guide to getting started with Little Red Book.
Step 2: Setting up your business account
If Xiaohongshu sounds like a good fit for your China strategy, it's time to set up an account!
Here are three tips to help you set up your business account:
Complete your profile: Fill out your profile information, including your business name, logo and a short description of your brand. Ensuring every field is complete will help users discover your brand and what you offer.
Optimise your content: Xiaohongshu's algorithm favours high-quality content that's relevant to its users. So when planning content, always prioritise visually appealing and informative posts. Use high-quality images and videos to showcase your products or services.
Engage with your followers: Xiaohongshu is a social platform, so it's important to engage with your followers – especially if you're working with a new account. Respond to comments and messages promptly and create content actively encouraging interaction.
Step 3: Creating content on Xiaohongshu
High-quality content is essential to success on Xiaohongshu, so it pays to get it right. Always keep the platform's user base in mind to create content that really resonates with users.
Here are a few tips:
Use visuals: Xiaohongshu users are highly visual. An eye-catching cover image with a punchy headline will entice clicks. Always use high-quality images and videos to showcase your products.
Be informative: Xiaohongshu users search for informative content that helps them make purchasing decisions. So focus on creating valuable and engaging content such as product tutorials and how-tos, lifestyle guides, behind-the-scenes content and exclusive offers.
Be authentic: Xiaohongshu users value authenticity, so be genuine. Share your personal experiences and be transparent about your brand.
Use raffles: Raffles are a great way to incentivise engagement with your content and increase your reach on the platform. Choose a prize that's relevant to your China branding efforts and ensure it's something your target audience is genuinely interested in.
Step 4: Improving SEO on Xiaohongshu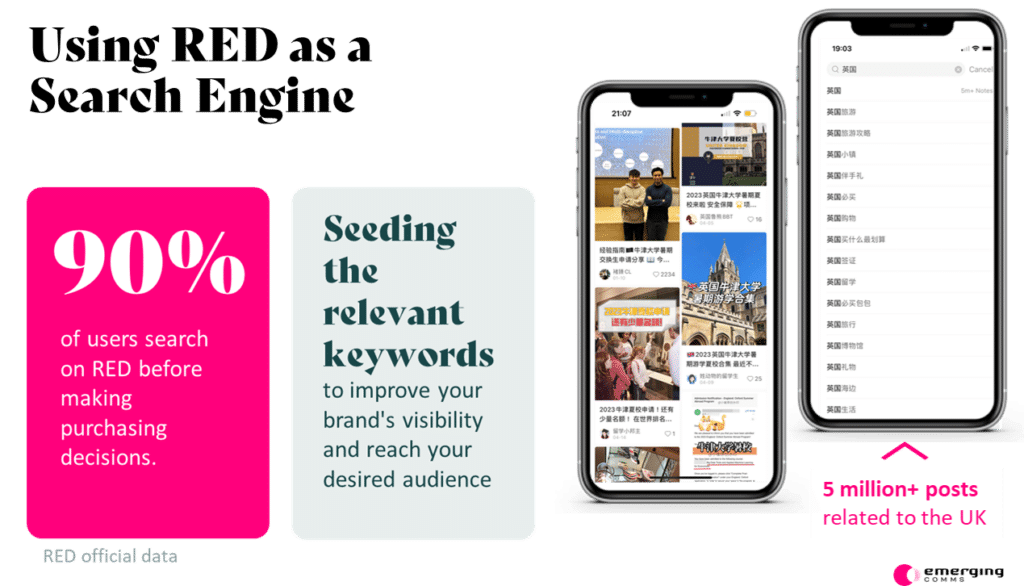 90% of Chinese consumers research product reviews before making a purchase decision.
Optimising your Chinese marketing strategy for Xiaohongshu is vital for improving your brand's visibility and reaching your audience in the right place, at the right time.
Here are four pointers for improving SEO on Xiaohongshu:
Conduct keyword research: Just like any other search engine optimisation, keyword research is crucial. Identify keywords and phrases relevant to your brand and popular among Xiaohongshu users to use strategically in your content.
Optimise content titles and descriptions: Pay attention to post titles and descriptions. Use relevant keywords naturally (the ones you've just researched!) to improve the chances of your content appearing in searches.
Utilise hashtags: Hashtags play a significant role in increasing the discoverability of your content on Xiaohongshu. Research popular hashtags related to your industry and incorporate them in your posts.
Engage with the community: Xiaohongshu is a highly interactive platform. Engage with your target audience by responding to comments, answering questions and participating in discussions. Building a solid community presence will increase visibility and help your content rank higher in search results.
Remember Xiaohongshu's algorithms are constantly evolving, so it's essential to stay updated with the latest Chinese social media trends and SEO best practices on the platform. Regularly monitor changes (by reading blogs like this!) and adapt your Chinese marketing strategy accordingly.
Step 5: Promoting your brand with Little Red Book ads 
Advertising on Xiaohongshu is a powerful way to increase your brand's reach and drive sales. There are three main types of Xiaohongshu ads: Shutiao (boosted posts), feed ads and search ads.
Boosted posts (Shutiao) are suitable for content creators and smaller businesses who want to enhance readership and engagement, as well as build awareness without too much spend.
Feed ads and search ads are also available on Xiaohongshu. To use them, brands must verify their Xiaohongshu account and activate the advertising function by submitting the required documents.
Feed ads appear in designated spaces in users' news feeds, while search ads appear in users' search results. It's as simple as that! Brands can bid on relevant keywords around their products and services to maximise exposure.
Both feed ads and search ads can increase sales by driving traffic to Xiaohongshu stores, generating leads with in-app landing pages and enquiry forms, as well as private messaging.
Step 6: Leveraging influencers on Xiaohongshu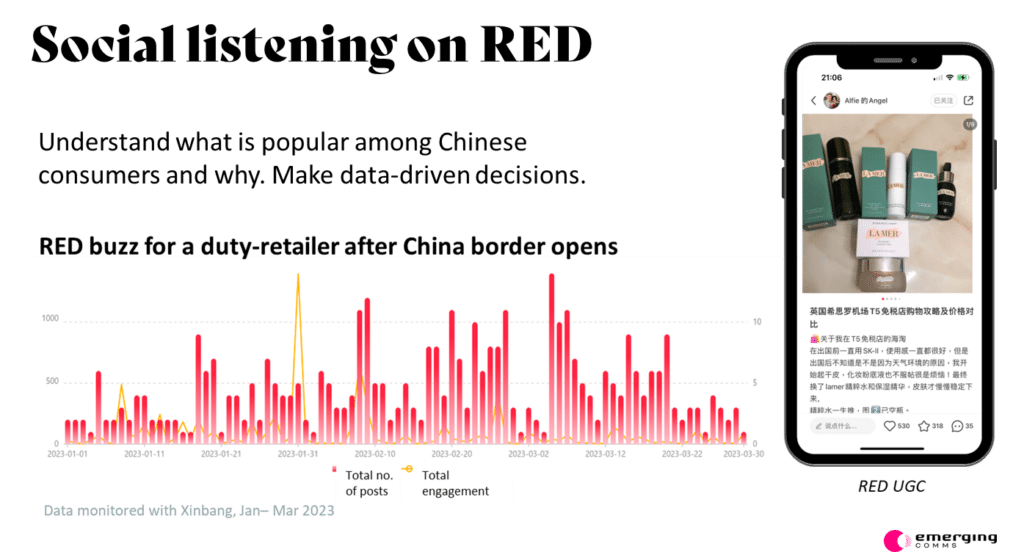 Influencer marketing is a popular strategy on Xiaohongshu and for good reason.
Both human and virtual influencers on the platform have large followings and help businesses reach a massive China market.
Some tips for working with influencers to reach Chinese consumers on Xiaohongshu:
Find the right influencers: Look for influencers whose reputation aligns with your brand, with a following that matches your target customers. This could mean working with both Key Opinion Leaders (KOLs) and Key Opinion Consumers (KOCs). Carefully vet influencers to ensure they have an engaged audience – and avoid any potential PR missteps.
Collaborate on content creation: Work closely with influencers (or even other brands) to create content that promotes your products and engages their audience. You could also offer discounts or other incentives to further encourage them to promote your brand.
Track your results: Keep track of your influencer marketing efforts to see what's working and what's not. Use analytics tools to measure engagement and ROI.
Step 7: User-generated content (UGC) on Xiaohongshu
UGC is the essence of Xiaohongshu. Leveraging UGC on Xiaohongshu boosts brand visibility, authenticity, community engagement and trust, leading to increased sales and customer satisfaction.
UGC adds authenticity and credibility to your brand as it comes directly from Chinese consumers, showcasing their genuine experiences and opinions. When potential customers see positive reviews, testimonials or creative uses of your products from real people, they're more likely to trust your brand and make a purchase.
So, how can you get started with UGC on Xiaohongshu? Here are a few tips:
Encourage UGC: Prompt your followers to create and share content related to your brand. Encourage them to write reviews, share experiences and showcase how they use your products in their daily lives. The feedback could even help you co-create products alongside consumers. Offer incentives such as competitions, giveaways or discounts to motivate participation.
Feature UGC on your profile and ad campaigns: Regularly feature UGC on your Xiaohongshu profile. This could be reposting content created by your followers, highlighting their reviews or testimonials, or showcasing their creative uses of your products. Incorporating UGC into your China digital advertising campaigns will enhance the authenticity of your ads and attract more attention.
Engage and respond: Actively engage with users who create UGC by commenting, liking and sharing their content. Show appreciation for their efforts and respond to comments or questions. This interaction builds a sense of community and encourages others to generate UGC of their own.
Step 8: Maintaining social monitoring on Xiaohongshu
Social monitoring is an important part of any Chinese marketing strategy, and Xiaohongshu is no exception.
Here's how to monitor your brand's presence on the platform:
Set up alerts: Use Xiaohongshu's alert function to receive notifications whenever your brand is mentioned on the platform. This will let you respond promptly to any user questions or concerns.
Monitor comments: Keep an eye on comments to see what users are saying about your brand. Respond to any questions quickly and engage with users to build a positive relationship.
Analyse data: Use analytics tools to track your performance on the platform and see what's working and what's not. Use this data to refine your China strategy and improve results.
Using monitoring tools: To enhance your content creation, track competitor activities and look for high-quality or new up-and-coming influencers. There are plenty of Chinese social media monitoring tools specifically designed for the platform. Qiangua (千瓜) and Xinhong (新红) are two of the most popular, helping you stay updated on the latest Xiaohongshu trends.
A powerful platform for your China strategy
Xiaohongshu is a powerful platform for businesses looking to reach Chinese consumers. By understanding the platform's user base, setting up a business account, creating high-quality content, leveraging influencers and advertising, you can increase your reach, build brand awareness and drive sales.
With the right approach, Xiaohongshu can be an invaluable asset for your Chinese marketing strategy. To supercharge your China branding and discover more about this exciting Chinese social media platform, watch our Little Red Book Webinar with RED Q&A.