Life moves fast in China, and Chinese tourists aren't the same as pre-Covid. What Chinese consumers want from travel has changed dramatically.
---
China's borders are well and truly open.
Over one million passports were issued to Chinese nationals in the last quarter alone. There were three million outbound travellers this Labour Day weekend and international hotel bookings were up by 18% on 2019.
With figures like this, it's not hard to see why experts predict a flood of Chinese travellers coming to Europe in the next few months. But many brands are under-prepared.
Here we look at how to engage the ever-demanding Chinese tourist.
Understanding your target audience: tribal segmentation
If you're hoping to engage Chinese consumers, skip the demographic segmentation.
This might sound counterintuitive, but in today's China market, it's far more helpful to segment by tastes, interests and the "tribes" your target audience belongs to. This could include:
UK-based Chinese University students: as of the 2021/22 academic year, there were over 150,000 Chinese students in the UK.
Chinese Gen Z and Millennial expats: with a UK population of over 500,000 young Chinese expats, it's a lucrative sector for repeat visits.
DIY travellers from China: in 2019, over 883,000 Chinese nationals visited the UK. These tourists fall into two categories, those organising trips themselves (DIY explorers) and those booking through travel partners.
Guided travellers from China: collaborate with Chinese partners such as travel agents and tour operators to target this group.
And if you thought the only place to target Chinese tourists was in China itself, think again.
Ignore UK-based Chinese at your peril! Chinese students in the UK welcome parents, family and friends multiple times a year. Those numbers quickly add up.
Case Study: World Duty Free
After China lifted its international travel restrictions fully in 2023, World Duty Free UK re-launched its marketing efforts targeted at the Chinese market. The goal is to build awareness, drive in-store traffic, and increase purchases among Chinese.
We helped the brand in establishing an official presence on RED and activating consumers through a raffle across RED, WeChat, and Weibo.​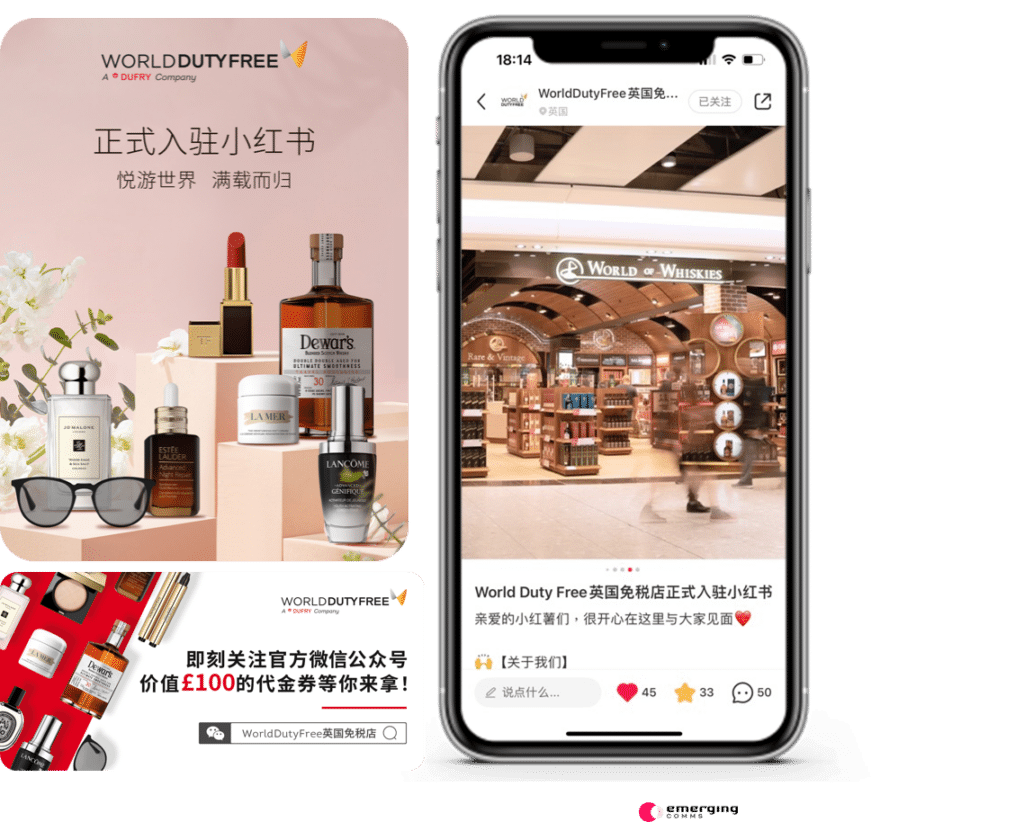 What are Chinese tourists in the UK looking for?
If there's one thing Chinese students and tourists are looking for, it's a unique travel experience.
Now, Chinese students in the UK are taking advantage of their freedom to explore the country. Instead of returning home during the holidays, students travel the width and breadth of the UK in search of interesting destinations.
This "tribe" uses weekends and university holidays to visit British towns and cities, historic landmarks and cultural attractions. And if these experiences are shareable on social media, all the better.
Case Study: Chatsworth House
We helped Chatsworth House to establish its brand presence on RED to engage with Chinese tourists planning their post-lockdown travels and developed a brand advocacy content strategy that aligned with today's Chinese tourists' love of exploring cultural stories.
In the first week of launching the Chatsworth House RED official account, we gained over 4,000 followers, after posting a series of high quality articles which received over 50,000 views. 
We co-produced a UK documentary series targeting Chinese tourists with a Chinese production company. The video went viral on Chinese social media with over 810K views, shared by many influencers including Visit Britain. Views successfully turned into visitors for Chatsworth House.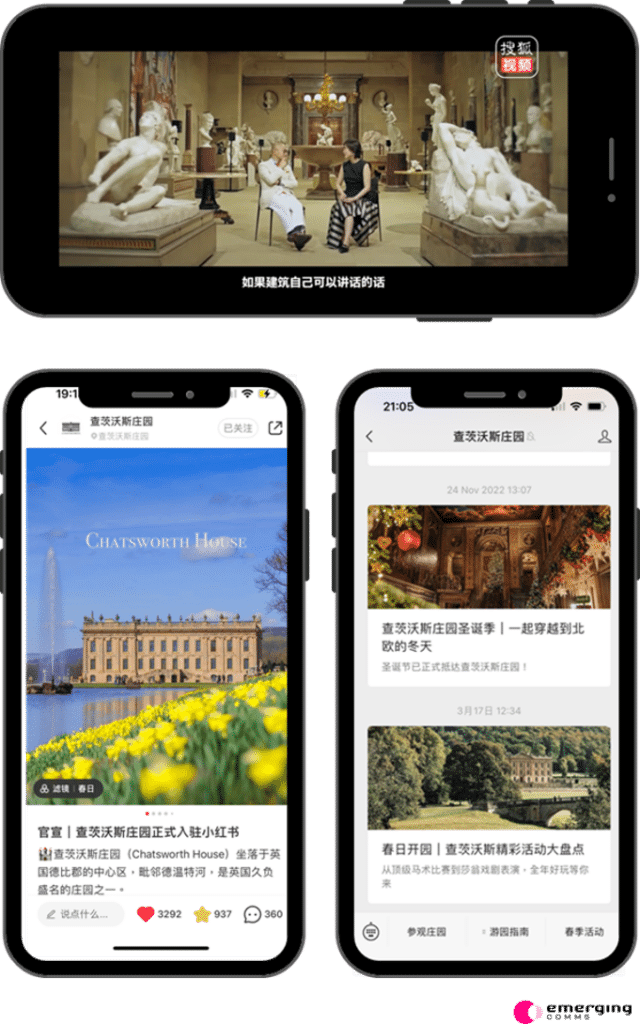 Of course, parents and other relatives also visit Chinese students in the UK. There are uni drop-offs, proud graduation ceremonies and happy family reunions. With restrictions on travel visas and limited time, most of these Chinese travellers spend their time solely in the UK rather than touring Europe.
It's a massive opportunity for UK destinations. So how can you engage and sell to these potential visitors?
When planning China marketing, keep the following customer touchpoints in mind:
Travel inspiration
Planning and research
Booking
Visiting
Advocacy
Then, select Chinese social media platforms to engage your target audience.
It's better to concentrate on just a few platforms rather than spreading your China digital marketing too thin.
To help, here are our top recommendations for the UK/Chinese travel industry.
Little Red Book (Xiaohongshu)
With over 200 million monthly average users, Little Red Book is the most influential user generated content (UGC) platform in China. In fact, it's the number one search engine for Chinese Gen Z, making it ideal for students. It generates an amazing 8 billion impressions every day, with over 15 million travel posts.
As well as students, Little Red Book is great for engaging Chinese expats and tourists to the UK. Many tourist boards, famous UK attractions and destinations have already established a presence on the platform. Tags such as "UK travel" (600,000 mentions), "Life in the UK" (1.6 million mentions) and "Study in the UK" (3.2 million mentions) prove its popularity.
Case Study: Hemswell Antique Centres
With our help, Hemswell Antique Centres has become a must-visit destination for Chinese antique enthusiasts. As Europe's largest antique centre, the antique dealership wasn't reaching vital target audiences required to expand in China
We expanded Hemswell's online exposure through bespoke influencer campaigns across major Chinese social media channels, to boost brand preference and amplify reach among the target audience.
In partnership with well-known Chinese Key Opinion Leaders (KOLs), we curated and launched authentic content that showcased the antique centres extensive range of antiques and quality vintage collectables, building credibility and enhancing the reputation among the Chinese target audiences.
The campaign has generated significant increase in footfall traffic to Hemswell Antique Centre, as well as 200% uplift in their website traffic with visitors from China. Over 5K engagements on RED and the number is still growing!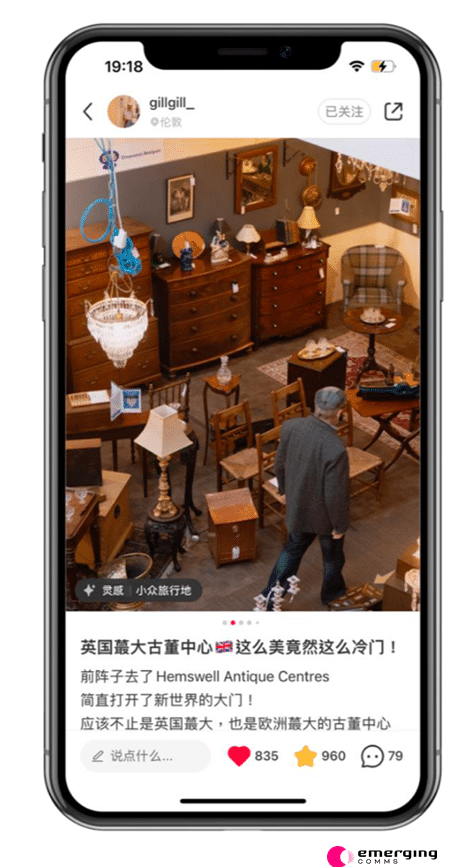 WeChat
WeChat is crucial for connecting with Chinese visitors and travel trade partners. It's the largest social app in China, with over 73% of Chinese internet users accessing it regularly. 60% of WeChat's 1.31 billion monthly users spend at least 90 minutes a day on the app.
There are over 20 million active WeChat official accounts and for good reason. Through the platform's comprehensive official account features (including direct payments, customer service and group messages to followers), UK brands can effectively showcase their sites and visitor experiences.
Weibo
Weibo isn't as well known by many Western brands. This makes it ideal for cutting through a crowded China travel market.
Weibo is a microblogging platform that's the go-to place for trending topics and news. It boasts over 584 million monthly average users, with some impressive geo-targeting options.
What's more, users spend an average of 55 minutes a day on the app. This makes Weibo ideal for long-form content and live-streaming events.
Douyin
"Chinese TikTok" enjoys immense popularity among young people passionate about travel. 66% of Chinese aged 18-39% use Douyin, with over 270 million users interested in travel topics. This large and highly engaged audience makes it perfect for travel marketers trying to reach younger audiences in fun and creative ways.
Douyin's algorithm is designed to promote the most engaging content that resonates with users. As a result, influencer marketing is extensive on the platform — another great opportunity for building China branding and awareness. With over half of users based in Tier 1 and 2 cities (i.e. the largest and most affluent urban centres), you'll reach those most likely to study abroad or travel in the UK.
Case Study: Unite Students
As part of Unite's integrated campaign for China, we identified Douyin as a key channel to target Gen Z students and their parents. We focused on the booking season in April-May, when students have received university offers and are looking for accommodation in the UK.
We edited the brand's pre-existing brand videos to create punchy and engaging ads that capture students' attention and resonate with today's Chinese students' accommodation requirements.
Furthermore, the campaign addresses the challenge of the brand's UK official website loading speed in China, an optimised Douyin in-app landing page. This page provides information and facilitates easy bookings for users.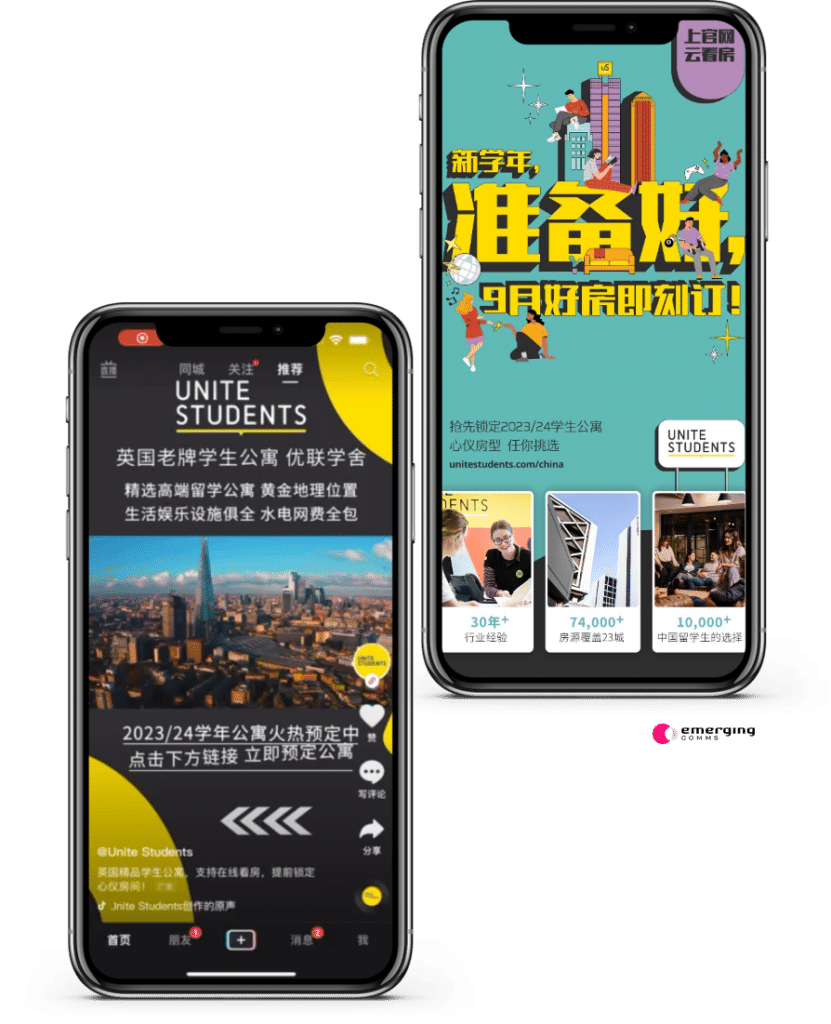 Fuelling the sales funnel: tactics for the Chinese travel industry
Once you know who you want to target and where, it's time to fuel that sales funnel.
But what's the best China strategy? Let's take the top, middle and end of the sales funnel in turn.
Enhancing brand awareness and credibility: top of the funnel
At the top of the funnel, it's all about getting on the radar of Chinese consumers and tour operators.
To do this, brands should enhance their visibility and credibility with digital PR. Updating and maintaining a China website as well as pages on Ctrip (China's largest online travel agency) will help users researching travel plans.
To appeal to individual visitors, creating social media hype with influencer promotions is key. Collaborate with top-tier Key Opinion Leaders and Key Opinion Consumers (KOLs and KOCs) to influence travel planning decisions. KOL videos, travel guides, livestream events and travel tips will all appeal to youthful audiences.
For maximum exposure, brands should also support this content marketing with social media advertising.
Driving preference and advocacy: middle of the funnel
Now it's time to influence Chinese consumers' travel research and planning.
Build on digital PR and social media advertising with campaigns communicating your brand identity across channels like Little Red Book, Weibo and WeChat. To create a long-lasting buzz, aim for an ongoing dialogue encouraging user generated content from Chinese consumers.
As well as individual visitors, relationships with China travel trade accounts are crucial for success.
To promote these partnerships:
Build and maintain relationships by keeping travel industry partners informed and excited about your opportunities.
Invest in localised training sessions and materials for travel agents and tour operators, so they know how to promote and sell UK experiences to Chinese audiences. Give regular updates, highlight successful China marketing campaigns and other helpful tips.
Work with a specialist China marketing agency to create localised brand assets and support travel trade relationships.
As part of an effective travel trade strategy, make customer relationship management (CRM) as smooth as possible. WeChat mini programmes are great for brand and training portals, with CRM features specifically designed for the Chinese travel industry. Your China trade partners will have training content, marketing assets and news updates all in one place, accessible 24/7 via the WeChat app. It makes staff management and communication a breeze.
Securing bookings: the end of the funnel
At the end of the funnel, it's time to secure those sales.
Working alongside Chinese travel agents and tour operators, localise your marketing materials for the China market. This could include training for key accounts and sales teams, consumer newsletters, partnerships with Chinese student associations and establishing a presence at trade travel exhibitions.
Partnering with student associations is a particularly effective strategy for driving group bookings. At Emerging Comms, we specialise in partnerships with Chinese student associations to increase new and repeat visits to UK destinations.
Finally, keeping your Chinese website optimised is essential for visitor marketing and successful travel trade partnerships. A careful focus on user experience with localised China content and up-to-date promotions will heighten perceptions of your brand.
Final thoughts: roadmapping China marketing campaigns
At Emerging Comms, we always create in-depth roadmaps for our China marketing campaigns. This ensures consistent China branding (in line with global guidelines) and clear targets every step of the way.
To create your own successful campaigns and drive sales for your brand, take a step-by-step approach:
Create a China communications strategy
Transform this strategy into a campaign roadmap
Embark on social media channel set-up
Ongoing marketing, activating campaigns and optimisation
Ongoing consultancy with China partners to capture marketing opportunities
Prioritise community management with a built-in PR crisis management plan
Utilise on-site assistance in the UK as well as China on the ground support
Following these steps will help you capitalise on any opportunities and keep your China strategy firmly on track.
In summary
Competition in the international Chinese travel industry is beyond fierce. To win over Chinese consumers' hearts and minds, create inspiring content that clearly communicates your brand identity.
To do this successfully, brands must invest in Chinese social media channels favoured by their target audience. Don't spread your budget too thin, as your China marketing campaigns won't make an impact.
Understand the needs of your China trade partners to provide seamless support. With an effective roadmap, you'll drive sustainable growth of your brand and attract ongoing Chinese visitors.