As a partner of Weibo we're lucky to get the latest insights direct from the Weibo team. Our recent sharing session focusing on China travel trends really gave us plenty to think about.
---
Whilst Little RED Book may lead the way with Chinese Gen Z when it comes to travel inspiration, Weibo is still a vital platform for making travel plans.
So, what are the latest insights?
Government data
Insight 1 – appetite for international travel
Over 5 million passports were issued to Chinese nationals in the first few months of 2023. Many passports expired during lock down and China only opened its boarder for leisure travel on 8th January 2023, so there was no need to apply for a new one until early 2023.
It may have been a slower start to international travel post-pandemic than anticipated by some, but that's not really surprising if you factor in the time it take to issue visas, coupled with the fact that more and more direct flights to Europe are opening up, bringing down prices and increasing availability. Savvy travellers being willing to wait to get the most out of their travel budget.
So, overall, international travel planning will take longer this year than in 2019 hence the low Chinese tourist numbers thus far in 2023 but the clear appetite for international travel.
Insight 2
Domestic travel and experiences have been at an all-time high since Covid 19 but visa data also shows 19 million Chinese nationals travelled to HK and Macau in the first quarter of 2023.
This will likely precede international travel and many European brands have already capitalized on increasing sales in HK and Macau.
Insight 3
65.065 million Chinese nationals moved in and out of China in Q1 this year. In fact we saw massive numbers during the Labour Day weekend too, official numbers showing that travel exceed pre-covid numbers by almost 20%.
Weibo Data June 2023
Insight 1
Travel related content on Weibo has risen by 111%, with more brands and travellers publishing travel related content than this time last year.
Insight 2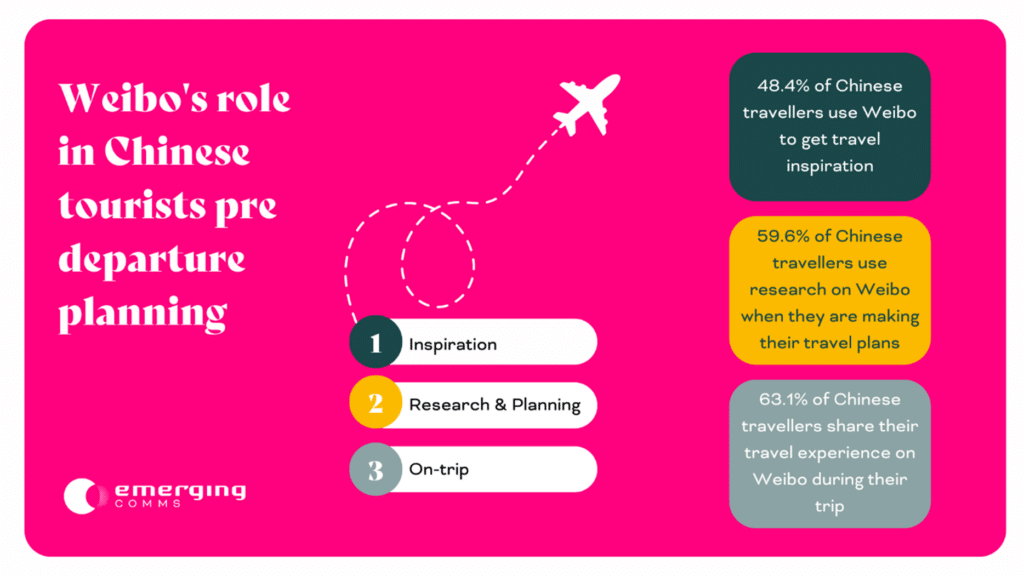 Weibo is very much being used to plan overseas journeys:
48.4% of Chinese travelers use Weibo to get travel inspiration.
59.6% of Chinese travelersresearch on Weibo when they're making the travel plans.
63.1% of Chinese travelers share their travel experiences on Weibo during their trip, with a 20% increase in location based searches in the last 6 months.
We predict a surge of Chinese tourists in late Summer and over Golden Week too!
Are brands China Ready and set up to welcome Chinese tourists in Europe?
Yes, some are.
However, many still don't have the basics in place such as China payments, Chinese speakers and information in Chinese.
Very few are using Chinese channels to create a buzz and demand for their brand, ahead of travel, missing a big opportunity.