Chinese Valentine's Day, also known as Qixi Festival or Double Seventh Festival, is a traditional celebration of love and romance. Held on the seventh day of the seventh lunar month, it falls on 22 August this year.
---
Could China be the world's most romantic country?
Chinese consumers celebrate not just one, but three valentines days — on 14 February, 520 Day and the ever-popular Qixi Festival.
With a rich history, Qixi is perfect for brands hoping to enter the affection of Chinese consumers. It's one of the most lucrative marketing opportunities in China, meaning competition is hotter than ever.
So, how can brands create innovative promotions for this traditional festival in new and exciting ways? We delve into the history of this unique celebration and share eight top tips for Qixi-themed Chinese marketing campaigns.
What's the story behind Chinese Valentine's Day?
Chinese Valentine's Day, or Qixi Festival, is a traditional celebration of love dating back over 2,000 years. It stems from the romantic legend of Zhinü (the Weaver Girl, represented by the star Vega) and Niulang (the Cowherd, represented by the star Altair).
It's a bewitching story, but also an incredibly well known legend in China. To create inspiring China marketing campaigns, brands must add a modern twist to this classic tale. So, what's the best way to do this?
China marketing for Qixi Festival: 8 tips and examples
Quite simply, Qixi is a massive opportunity for brands in the China market.
Chinese consumer surveys show people prefer traditional dates like Qixi Festival over Western celebrations like Valentine's Day. It's linked with Chinese Gen Z and Millennial pride in China's cultural heritage, a trend known as guochao.
Adding to this cultural pride, Chinese Gen Z and Millennials are also the nation's most frequent gift buyers. Searching for romantic gifts to enhance the "sense of ritual (仪式感)" in everyday life, this group loves bespoke luxury products and campaigns offering unique experiences. With unconventional storytelling, special-edition products and influencer collaborations, international brands are raising the romance stakes and their sales.
Of course, these big China branding opportunities bring intense competition. To help your China strategy shine this Qixi, here are eight top tips:
1. Emphasise romance
This might seem obvious, but Qixi is the most romantic festival in China. If your Chinese marketing campaign doesn't feature love and romance, it isn't right for Qixi.
Use this to your advantage by promoting products and services associated with love, relationships and romance. Items such as jewellery, fashion, flowers, chocolates and unique couples' experiences are all appropriate.
At Emerging Comms, we supported the British fine jewellery brand Stephen Webster with a Qixi-themed China marketing campaign. Alongside carefully curated WeChat content, the campaign ran with the slogan "Discover our couples bands; the ultimate piece for this Valentine's Day". These bespoke rings all carried the theme of love, with edgy yet romantic names such as "a thorny romance", "the same but different" and "no regrets chapel".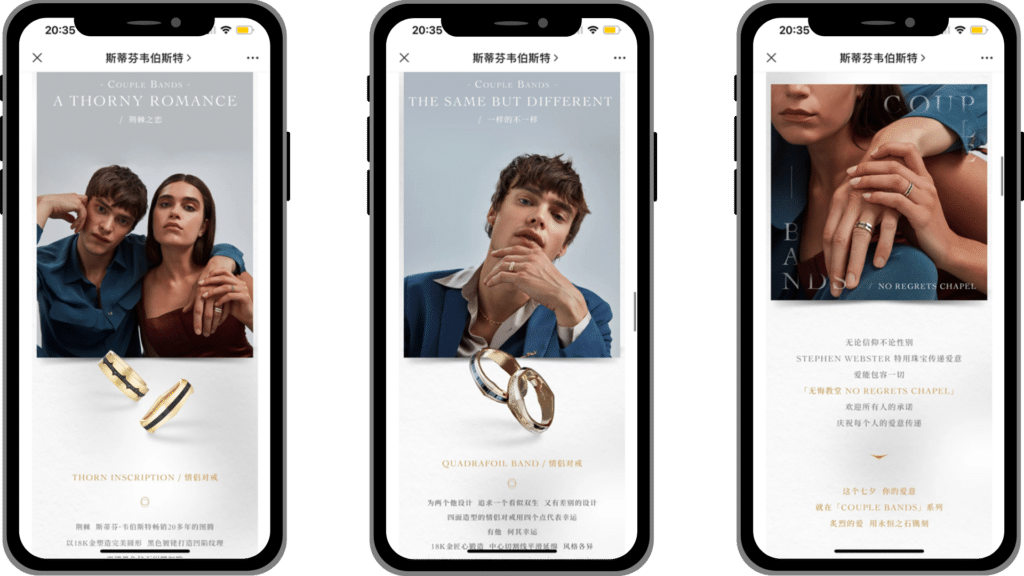 2. Launch limited edition products
Like the successful Emerging Comms and Stephen Webster promotion, many brands launch limited edition products for Qixi. This could be a full-blown range or packaging featuring symbols from the festival's mythology. Stars, hearts, bridges, magpies or images of the two lovers are all possible candidates.
Valentino went all out in 2022 with a bespoke "All Around Love" collection. Shirts featured bright red "V-logo Love" prints, with a full heart shape formed when two people came together. These limited edition shirts were promoted with captivating campaign videos featuring a soundtrack by the musician Li Ronghao, starring the model Zhao Jiali and influencer Ye Jinghang. Proving love travels the distance, it was a hit with Chinese consumers — generating an impressive 8.4 million views on Weibo.
3. Plan online and offline promotions
E-commerce platforms often hold special Qixi sales, and the results are particularly impressive. In J Shop's last Qixi campaign (the fashion and lifestyle arm of JD.com), sales of luxury bags grew by 248%, accessories by 338% and lipstick jumped by 103% — to name just a few product categories.
In addition to China digital sales platforms, brick-and-mortar stores decorate their spaces to reflect the festival. As we've already seen, discounts, special offers and thematic China marketing campaigns all drive impressive sales during the holiday.
4. Collaborate with local artists and influencers
Brands collaborating with local artists on unique designs will create a buzz around their products. Pair with an appropriate influencer promotion and you've got a recipe for romancing Chinese Gen Z and Millennial audiences.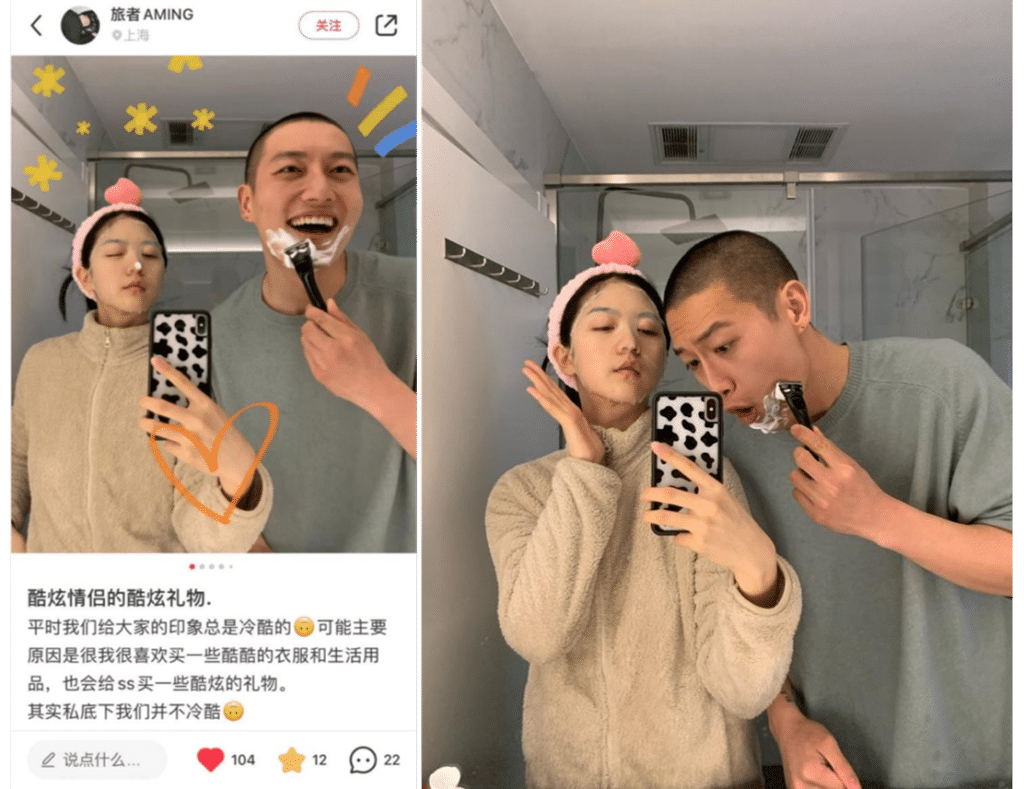 At Emerging Comms, we created a bespoke Qixi campaign for the luxury men's razor brand Bolin Webb. The influencer @Aming posted a 9-image promotion on Little Red Book, highlighting the company's X1 Razor and accompanying stand.
By showcasing the razor as a Qixi gift from his girlfriend, it highlighted the product in a natural and loving way that appealed to young Chinese consumers. The post gained over 10,000 impressions, 138 engagements, 100 likes and more than 20 positive comments.
5. Encourage social media engagement
Make sure you're up to date with the latest Chinese social media trends for Qixi.
Engage Chinese consumers by encouraging user generated content. This could be sharing love stories, organising online events or hashtag challenges. It all makes your China branding more relatable and creates a personal connection with the audience.
A leading C-beauty company, Florasis illustrated this perfectly with their Qixi marketing. Featuring a digital animation titled "Zhang Chang touches up eyebrows" (inspired by the historic Book of Han), it was a beautifully realised and fully localised campaign.
Alongside the video, the brand encouraged customers to share videos and pictures of their loved ones touching up their eyebrows (with Florasis products of course) on any Chinese social media platform. Appreciative of marketing deeply rooted in Chinese culture, users readily used the campaign hashtag and drove substantial sales of the brand's eyebrow pencils.
6. Bring a modern twist to your China strategy
While Qixi has historic roots, young Chinese consumers demand a modern twist. To meet these expectations, marketers must find creative ways to blend traditional elements with modern sensibilities.
It's important brands do this with a delicate touch. Cartier launched a 2020 Qixi campaign with a video featuring heterosexual, gay and lesbian couples in dreamlike settings. With the slogan how far would you go for love, it promoted the luxury jeweller's "trinity rings". The video initially enjoyed positive reactions on Weibo, with users praising its subtle inclusivity.
In an apparent change of heart, the brand posted images from the video on Tmall with a caption suggesting the two men (of a similar age) were "father and son". Under the image of the female couple was a description of "everlasting friendship". As well as the inconsistency of friends and family wearing romantic rings, Chinese netizens were also disappointed by Cartier abandoning their previous LGBTQ representation.
7. Prioritise cultural sensitivity
While Qixi is a great opportunity for creative marketing, brands must approach it with an understanding and respect for Chinese culture. Even minor missteps can lead to negative public perceptions at best and a major PR crisis at worst.
Ignore cultural sensitivities and underestimate the high standards of Chinese consumers at your peril. Like Cartier, Balenciaga learnt the hard way with a Qixi campaign inspiring the hashtag #Balenciaga'sChineseValentinesCampaignisTacky (the Chinese is shorter!). The hashtag appeared on over 210,000 Weibo discussions with 170 million views. In a growing PR nightmare, #BalenciagainsultsChina gained a further 15 million views.
So what went wrong?
Instead of a fully realised concept, Balenciaga just promoted an existing bag in multiple colourways with simple graffiti-style slogans.
While some Chinese Gen Z liked the styling, others considered it ugly. The ad creatives further put-off fashion-forward audiences, with many netizens turned off by the simple products they could easily create themselves.
8. Remember tourism and special experiences
Chinese consumers look for new and exciting ways to celebrate Qixi each year. So don't limit yourself to traditional gifting.
Create romantic getaways, special events or unique experiences that couples can enjoy together, all while interacting with your China marketing.
Getting this right, Gucci launched a limited edition Qixi handbag collection featuring two interlocking red "Gs" inspired by the phrase "apple of my eye". But that wasn't all. To drive offline engagement, the brand encouraged loved-up couples to post selfies with storefront advertising on Little Red Book. #GucciQixi quickly gained over 126,000 mentions as a result of this fun, interactive campaign.
Effective localisation strategies
Qixi Festival provides an incredible opportunity for brands to tap into themes of love and romance to promote their products and services.
Done the right way it's a surefire way to create campaigns that engage Chinese consumers and resonate with both traditional and modern sentiments. Effective localisation strategies build awareness and increase sales with highly targeted, culturally aware marketing.
To learn more about effective localisation for Chinese marketing campaigns, join our exclusive webinar on 12 September.