If your brand is entering the China market, culturally sensitive marketing communications are extremely important. But what's the best way of going about this?
---
China isn't just another market.
Expanding into China is vastly different to other areas of the world.
Why?
Well, the China market is extremely large and complex. There are approximately 1.412 billion people in China living across 34 regions – each with its unique history, culture and dialects.
Today, we look at brands who've got it right (as well as learn from those who missed the mark) and explain how to create your own successful "glocalised" China marketing campaigns.
Chinese marketing campaigns: lost in translation?
If you thought marketing in China was as simple as a quick, direct translation… think again.
Mandarin is the main language in China, but there are over 80 dialects with many nuances to written and spoken communication. This makes direct translation from European languages difficult, if not impossible.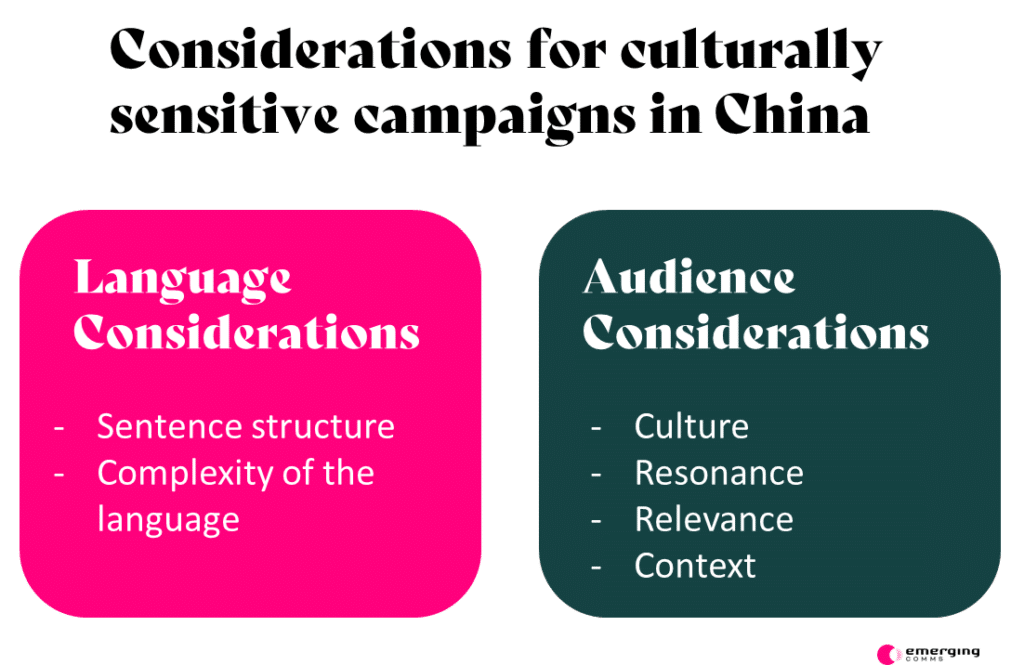 There are four "tones" in Mandarin and the grammatical structure is completely different, there's a lot to consider.
But of course, creating marketing campaigns that engage Chinese consumers isn't just about translation. Western brands need to go beyond the language and focus on culturally sensitive campaigns with Chinese audiences at their heart.
If you need any persuasion of the importance of this audience-led focus, take the unfortunate case of Cathay Pacific Airways for example.
The airline experienced a major PR crisis when cabin crew discriminated against a non-English-speaking passenger. When the individual mistakenly asked for a "carpet" instead of a "blanket", a flight attendant responded, "he doesn't deserve a blanket if he can't say "blanket" in correct English". The incident was recorded and posted on Little Red Book (Xiaohongshu) – one of the leading Chinese social media apps.
These comments unsurprisingly caused a social media storm, which worsened with Cathay Pacific's staff memo. The company said staff "should be especially cautious when engaging with customers from China and be aware of their media culture, which can be drastically different in other areas of the world – including Hong Kong". The insinuation Hong Kong wasn't part of China only deepened Chinese netizens' outrage.
The importance of culturally sensitive China marketing communications
As the case of Cathay Pacific demonstrates, culturally sensitive communications are crucial for businesses operating in the China market.
To do this, pay close attention to creative assets (logos, iconography, photography, videos and design) as well as the tone, context and meaning of your written content. Ask yourself – what behaviour do we want from Chinese consumers? Does this marketing campaign fit with their "wants and needs" and does it emotionally resonate?
If you're unsure, the help of specialist Chinese marketing services (like those at Emerging Comms) is invaluable. With in-depth local knowledge, we help businesses ensure their China branding remains culturally sensitive and relevant.
With simplistic direct translations, your existing copy probably won't entice Chinese consumers. It might not make sense or resonate with your target audience. And in the worst-case scenario, ill-judged China digital campaigns can cause serious offence.
When things go wrong…
The luxury fashion brand Chanel experienced a major ad flop due to poor copywriting on International Women's Day 2020. Their brand ambassador Xin Zhilei posted on Weibo that "women who don't know how to wear perfume don't have a future." While this was a direct translation of a Coco Chanel quote, users criticised the caption for its misogynistic undertones.
The actress quickly apologised and removed the post, but it generated over 140 million negative comments. It highlights the importance of checking China marketing copy extremely carefully.
Individuals with local knowledge should also check creatives for potentially offensive symbols, colours and cultural suggestions. Burberry's Lunar New Year ad creative was a classic example of cultural insensitivity, with Chinese consumers criticising the "creepy" scene for its lack of cheer.
We could go on. From Dior's "pulled eye" social media post to the brand "perpetuating racial stereotypes" with photos at a Shanghai exhibition. And who could forget the infamous Dolce & Gabbana "chopsticks" furore – with a campaign featuring a Chinese model struggling to eat Italian food? Not ideal to say the least.
While effective "localisation" is key to avoiding PR crises, brands be careful not to dilute their global identity. With too much localisation, there's a risk marketing could seem "downmarket" as well as opening the door to intellectual property protection issues.
So, what's the solution?
Enter "glocalisation".
Glocalisation: the key to your Chinese marketing strategy
Glocalisation refers to branding, products or services developed globally, but adjusted and marketed for local consumers and markets.
For Chinese marketing campaigns, this means a deep understanding of the behaviour of your Chinese consumers, their wants, needs and triggers.
When it comes to creatives and copy, Chinese marketing specialists with experience in your industry (rather than generic translation houses) are essential. They'll help you choose a Chinese name and secure trademark protections – respecting global brand guidelines while providing in-depth knowledge of Chinese culture.
Here's how to do it right…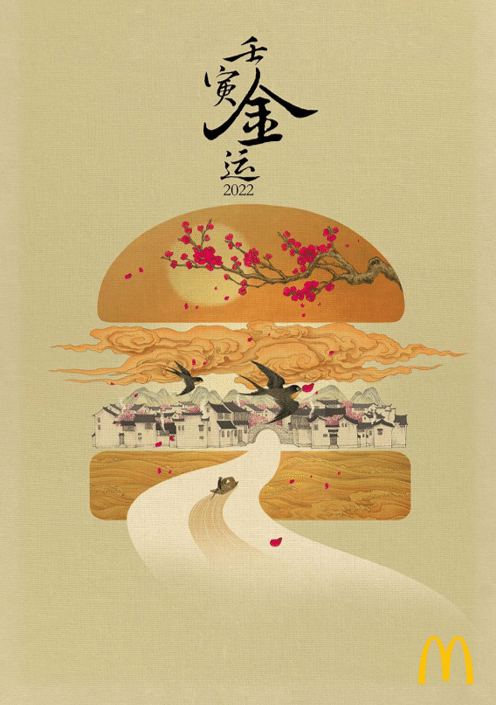 Case Study: McDonald's Chinese New Year collaboration
In 2022, McDonald's collaborated with Shanghai Animation Studio to combine modern fast food (the global) with traditional Chinese brush drawings (the local).
Using classic painting techniques, the McDonald's campaign cleverly played on "guochao" (pride in Chinese culture, particularly prevalent among Chinese Gen Z) with videos and posters featuring auspicious clouds, magpies and plum blossoms.
This deep appreciation for Chinese culture combined with a "customer-centric" campaign was a massive hit. It resulted in over $3 billion sales and a 33% increase in per-customer transactions.
Case Study: Loewe's Chinese monochrome ceramics campaign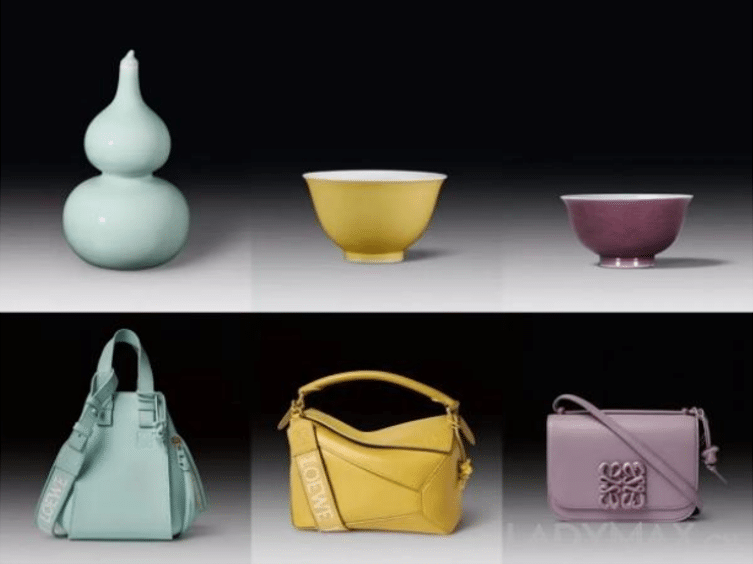 In an industry-leading campaign, LOEWE created handbags (the global) paying tribute to Chinese minimalist aesthetics (the local), dating back to ceramic works of the Ming and Qing dynasties.
Their bags took inspiration from glazed ceramic colours and shapes, as an "ode to the power and beauty of a single hue". The campaign featured an exhibition in Shanghai and videos with contemporary ceramic artists – and the brand will also sponsor a ceramics educational program at Jingdezhen Ceramic University.
Unsurprisingly, there was huge social buzz around this inspired campaign. It achieved 7 million Weibo views within days, as well as 6,000 likes on the Little Red Book video.
Creativity leading the way
When things don't go 100% to plan. Don't panic! A misfired Chinese marketing campaign doesn't necessarily spell disaster for your China branding.
Creative, humorous responses can go a long way…
For instance, BUICK turned a potential rebranding disaster into a China marketing opportunity. The car manufacturer responded to criticism of their new logo (and its similarity to nail clippers) with self-confident fun. Coupled with the promise that "BUICK is here to protect every pair of professional and talented hands", they launched special limited edition BUICK nail clippers. It was an entertaining, tongue-in-cheek response that won over Chinese consumers.
Kindle also reacted humorously to Chinese users' teasing "the best use of my Kindle is as an instant noodle cap." In response, Kindle launched a campaign on Weibo and Tmall. With pictures of Kindles covering instant noodle pots, they ran the slogan "feeding your brain and stomach together". The campaign generated over 200 million impressions on Weibo, as well as countless user-generated "Kindle noodle" pictures with Chinese consumers joining the fun.
To create culturally sensitive China marketing, brands need to go above and beyond "traditional" wisdom. Yes, red and gold colours bring good fortune (and brands would do well to avoid umbrellas, green hats and the number four), but more importantly, it's about treating Chinese consumers with respect and building long-term relationships. Brands need to ask the right questions – what's the occasion? What can I do for you? They must offer choice for Chinese consumers and genuinely engage with their audience's culture, wants and needs.
Emerging Comms help brands navigate the complex China market and create Chinese marketing campaigns that engage and delight. Join our Global Brand Alignment webinar to learn how to ensure brand consistency whilst taking your China strategy and marketing to the next level.